I have been very eager to put together this entry as I think it is super important for every beauty ritual.
All information was gathered from research and personal experience.
*I would like to begin by saying that what I am about to discuss pertains to vitamins that have worked well for me, and may not necessarily work for you. Please talk to your physician for more information on the right vitamins for you.*
I've got a lot to share, so let's begin.
A vitamin is an organic [chemical] compound that plays essential roles in our body's processes. They
participate in reactions inside cells, and each performs a specific role in the body.
With the exception of vitamin D, the human body cannot synthesize these organic compounds (vitamins); therefore, they must be obtained from food or vitamin supplements.
As we progress through different stages in life, our body's need for specific vitamins will change. Deficiency of a particular vitamin you need, can lead to serious health problems.
Due to events like the dreadful monthly visits from aunt Flow, pregnancies, Osteoporosis, etc. women tend to be more deficient in essential vitamins than men.
In my past experience with vitamins, I either did not feel the effects, or the vitamins made me sick. So for a very long time, I did not take any.
But when I found myself tired and not as lively, and my hair and nails were dry and brittle, I wanted to give it another shot. I was recommended "Women's One a Day" multivitamins. Some people absolutely love these vitamins; however, I was not one of them.
I started experiencing frequent stomach aches and nausea, and was more tired than usual, not to mention the bright lime green…ok that may be TMI…
Basically, these were not for me. In a conversation with my dear friend, she filled me in on her same experience with the vitamin. After she had spoken to her doctor, he told her that it was the excess amount of iron that was making her sick…IRON! I was in total shock because I am (or maybe was) borderline anemic.
She then recommended the GNC brand "Women's Ultra Mega Active without iron".
After taking the vitamin for almost a month, all the previous symptoms are gone, and I feel more vibrant and awake.
I absolutely love it! I am not exaggerating when I say that vitamins have changed my life.
This is why I can't stress enough that: A) you take vitamins or consume the proper foods, B) you keep in mind that everyone is different. You may have to try different brands or types before finding the right one; and C) Talk to your physician about the right vitamin/ diet for you.
In addition to the Women's Ultra Mega (no iron), I picked up the GNC "Hair, Skin, & Nails Formula" supplement…WOW.
This product has been amazing for me! My nails are growing so quickly and are so strong, my hair is super shiny and healthy, and my skin looks more radiant (although it could also be my new Oil of Olay Total Effects moisturizer).
Here is a picture of my healthy nails, just to show you what I'm talking about:
Therefore, I would highly recommend that everyone begin their beauty regime from the inside, then out.
For more information on the vitamins mentioned, please click the links below:
Since we are on the topic of nails, I thought I'd squeeze in my two new nail polishes from Nicole's Kardashian Kolor collection. They are such great colors!
Kim-pletely in Love is my new go to pink, replacing Essie's Vanities Fairest. The specks of green and its iridescent color is so whimsical and feminine. I definitely am "kim-pletely in love".
Disco dolls chipped easily but was worth the color pay off. It could be that I used three coats, which made it flaky. I'll try it with two next time.
Color after two coats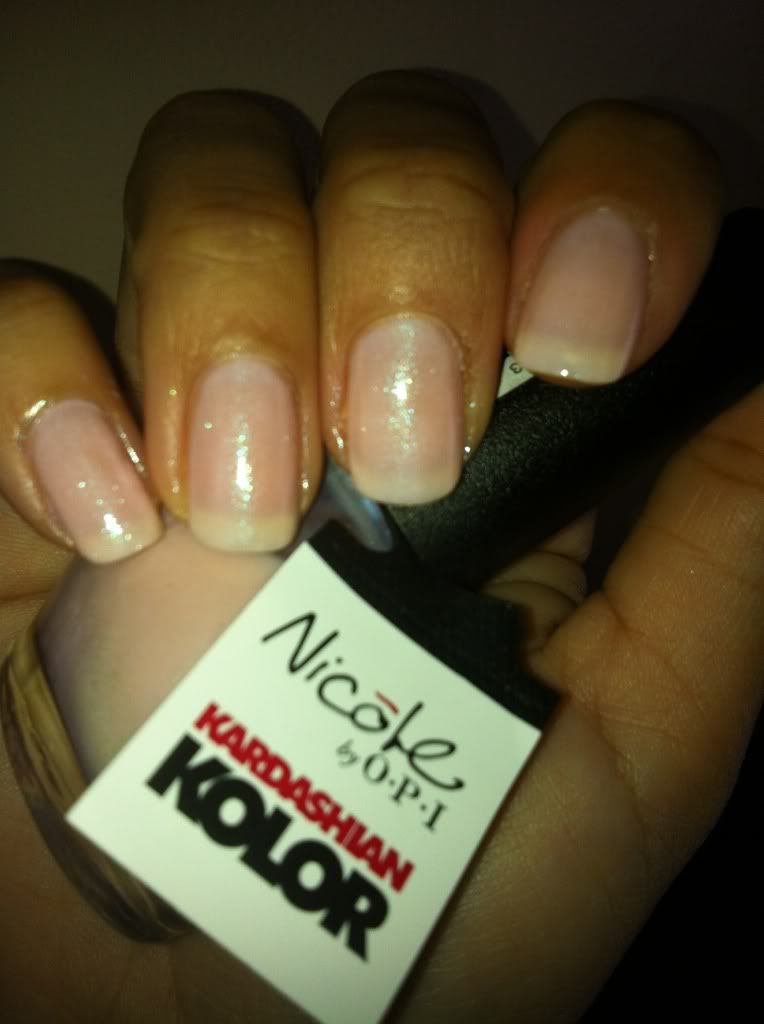 Color after three coats
My first .Gif file! :)